September, 2015
Dear ICA Members,
The curtain came down on yet another successful annual event. Capturing feelings undoubtedly supportive and enthusiastic we bid goodbye to Stockholm, Sweden and to the hosts of the 49th ICA Conference - the Swedish Ministry of Enterprise and the eGovlab.
A small flashback to the conference highlights, would take us to Sunday's (Day 1) council meeting and to the election of our organization's new Board and Programme Committee, conducted by Life Member, Mr. Frank McDonough.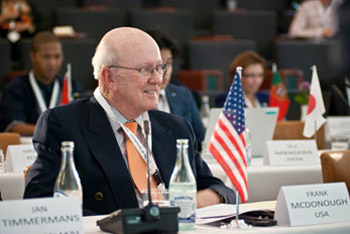 ICA Life Member, Mr. Frank McDonough
Thus, for 2015-2017 Mr. Toshiyuki Zamma will be ICA Chair as he has succeeded Mr. Shimon Broner. Mr. Broner, steps down after a productive 3 year term to assume the role of Past Chair.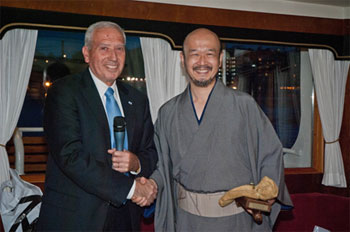 Past Chair, Mr. Shimon Broner "signs off" on the traditional gavel to New ICA Chair, Mr. Toshiyuki Zamma.
Furthermore, we have a new Vice-Chair joining Mr. Hong-Wei (Howard) Jyan and he is Finland's Deputy National Representative, Mr. Juhani Korhonen. Mr. Frank Leyman remains to his position on the Board, as Mr. Larry Caffrey welcomes Mr. Jan Timmermans to his side, as Deputy Treasurer.
For full details, please visit our website Board section.
New Programme Committee members were also elected as preparations for the 50th ICA Conference are underway. Programme Committee Chair, Frank Leyman will join forces with the newly appointed as well as members from the past committee to coordinate actions for the annual event to be hosted by Colombia in 2016.
For full details, check out the Programme Committee section of our website.
On a couple of side notes we bid farewell and send wishes for many prosperous future endeavours to Finland's National Representative, Mr. Riku Jylhänkangas; while we welcome Mr. John Messina as Canada's new Deputy National. A warm welcome also goes out to Ms. María Isabel Mejía Jaramillo who is the National Representative of ICA's newest member- Colombia. She is joined by Mr. Jorge Bejarano who will act as Deputy National Representative.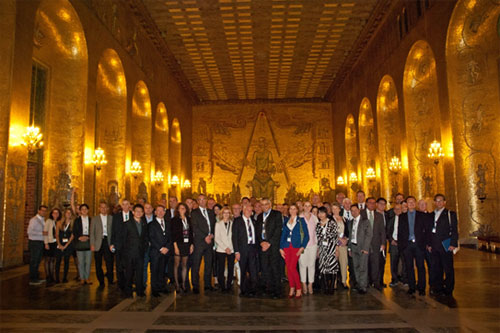 The opening evening embraced the delegates in an event hosted by the City of Stockholm.
Days 2 & 4
The conference saw participants and speakers at the Ministry of Enterprise and Innovation in the center of Stockholm, with a warm welcoming from Swedish Minister, Mr. Mehmet Kaplan on the 7th of September.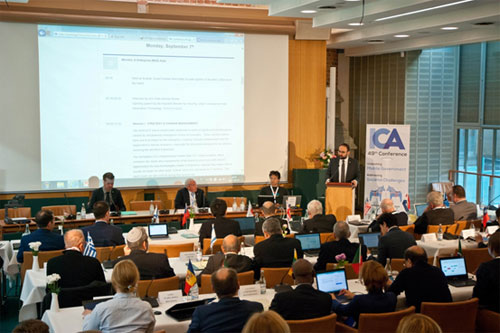 Swedish Minister of Enterprise and Innovation, Mr. Mehmet Kaplan.
You may access complete presentations and speakers' profiles in the members' area, under resources and conferences, where you will also find a full list of the country reports presented. This year's Country Report theme for those who were unable to attend the conference, focused on Member Countries' eGovernance Strategy. Specifically on how governments use mobile technologies to reach citizens, businesses and civil servants; the use of big data and analytics to support government policy and program decision making; and finally methods used to address issues of IT security and integrity.
Be sure to visit often as an update is in store with Mr. James Mackison's complete Summary Report. You will need to login in order to access them.
Day 3
The conference travelled participants to nearby Kista. The organizers showcased an interactive array of events, beginning with a two hour visit at the Ericsson site leaving guests longing for more.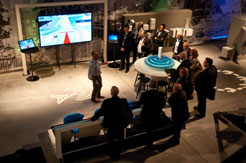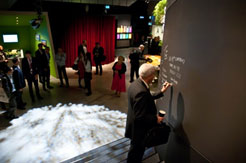 Ericsson Experience Center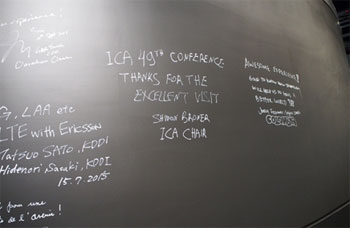 Ericcson's Wall of Fame
Next stop called for eGovlab - where the future of inclusive governance is being forged - not just in theory but also in practice. Participants, academia and selected industry members were grouped and were actively involved in one of the 3 parallel hands-on workshops addressing topics on "migration," "building a home" and "risk & disaster management."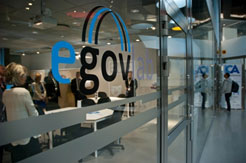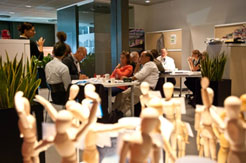 eGovlab Facilities in the NOD-Kista
To trigger the Ericsson visit, please check out our website. The eGovlab Innovation Jam Session presentation is in post production and will soon be available!
If you are having trouble accessing resources/photos available to members, please email the This email address is being protected from spambots. You need JavaScript enabled to view it., so that your details may be reissued.
2015 Future Leader Awards
The 49th ICA Conference also celebrated the Future Leaders' Programme, naming two new fellows to represent our organization as ICA ambassadors. This year's awarded Future Leaders are Ms. Daiva Chetcuti-Kirkilaitè from Lithuania and Mr. Lourino Chemane from Mozambique.
| | |
| --- | --- |
| | |
| Ms. Daiva Chetcuti-Kirkilaitè | Mr. Lourino Chemane |
Full profiles are available in the Future Leaders section.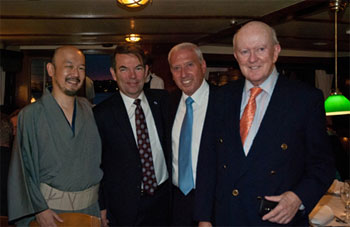 Present & Past Captured in One (T. Zamma, P. Bruce, S. Broner, F. McDonough)
Kind Reminder to 49th ICA Conference participants- your opinion matters! We ask that you check out the Conference Evaluation Forms and complete the ones you didn't have time to address in Stockholm-these will be available until September 27th.
Finally, the Photo Gallery has been updated with general conference photos.
Personal photos have been sent individually via Wetransfer, so be soon to download them as the link expires.
We look forward to meeting each one of you again soon-and remember, if you would like to share news, ideas, concerns or surveys from your country, contact the This email address is being protected from spambots. You need JavaScript enabled to view it. who will ensure that your message makes it to those you wish to reach!